EAC Ex Approved Spring Loaded Thermocouples for the Petrochemical, Oil and Gas Industries
with a choice of Terminal Heads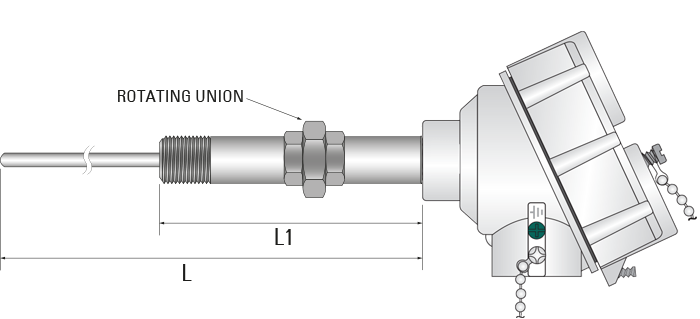 Send Enquiry
Data Sheet
Request Info
Also available with ATEX Approval
Also available with IECEx Approval
These semi rigid spring loaded thermocouples are supplied with an IP68 terminal head and threaded flameproof extension and are ideal for installation in thermowell pockets and where good contact with the process is required.They can be used with service temperatures up to 1250ºC (minimum stand-off lengths shown on
here
must be observed).
Available in a wide range of protection concepts for Zones 0, 1 & 2 use. See table below for details

Temperature classification T6-T1, see here for stand-off requirements

Available in thermocouple types K, T, J, N, E, R, S and B

Metrological / Pattern Approval Certificate (PAC) for Russia also available on request, contact us for details

Additional Primary verification "POVERKA" available on request, contact us for a quotation if required
Sheath diameters from 3.0mm to 8.0mm in a wide choice of materials

Insulated measuring junction gives a floating output with high insulation resistance

Spring loaded thermocouple insert with wide choice of process connections

UKAS calibration available.
Available with the following approvals:
| | | |
| --- | --- | --- |
| Protection Type | Description | Zone |
| Ex d IIC Gb | Flameproof (Gas) | 1 |
| Ex ia IIC Ga / IIIC Da | Intrinsically Safe (Gas/Dust) | 0/20 |
| Ex ib IIC Gb / IIIC Db | Intrinsically Safe (Gas/Dust) | 1/21 |
| Ex tb IIIC Db | Enclosure (Dust) | 21 |
| Ex tc IIIC Dc | Enclosure (Dust) | 22 |