COVID-19 UPDATE:
We are open for business as usual and here to assist our customers. Please call on our usual number - 01895 252222, or email
info@tc.co.uk
Temperature Calibrators
High Accuracy Temperature Calibrator
Related Products
Thermocouples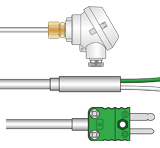 Resistance Thermometers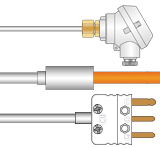 Our high accuracy temperature calibrator is an ideal device to handle all of your temperature calibration needs in a truly rugged, low cost package. It combines virtually all widely used thermocouples and RTD's in one device. You'll never have to worry about finding a temperature device you can't calibrate. This is especially true when calibrating "smart" or pulsed RTD transmitters where many other calibrators fail to work or operate at reduced accuracy specs as it handles those applications with ease. The instrument is also supplied with a moulded rubber holster which makes it ideal for harsh working environments.
High accuracy, typically ±0.4ºC for thermocouples and ±0.3ºC for RTDs all errors included
10 different thermocouple types including K, T, J, N, E, R, S, B, L, U and mV. 8 RTD types including 3 or 4 wire Pt100, 200, 500, 1000, Ni120 and Cu10 as well as ANSI and JIS standards
Direct keyboard entry or scroll control of output
NEMA4 rated case, rugged design
RTD simulation works with all smart transmitters
Connection out is made via mini flat pin thermocouple socket or for RTD via banana jack socket
Store up to nine setpoints for each output function
RS232 interface

Each unit is supplied with 4AA batteries, NIST certificate and instruction manual
Accuracy (source/measure):
Type K: -100ºC to +1000ºC ±0.35°C, +1000ºC to +1372ºC ±0.5°C
Type T: -200ºC to -150ºC ±0.7°C, -150ºC to +400ºC ±0.3°C
Type J: -210ºC to -100ºC ±0.5°C, -100ºC to +1200ºC ±0.3°C
Type E: -200ºC to -100ºC ±0.5°C, -100ºC to +1000ºC ±0.3°C
Types R & S: 0ºC to +250ºC ±1.8°C, +250ºC to +1767ºC ±1.0°C
mV: -10 to 75.000mV ±0.007% of reading ±10µV
Resolution: 0.01ºC/ºF in measure mode and 0.1ºC/ºF in source mode
Operating Temperature: -10 to +55ºC
Power supply: 9V battery (supplied)
Weight: 340g

Size: 145 x 80 x 36mm (HxWxD)