COVID-19 UPDATE:
We are open for business as usual and here to assist our customers. Please call on our usual number - 01895 252222, or email
info@tc.co.uk
Temperature Calibrators
Multi-function Calibrator
Related Products
Thermocouples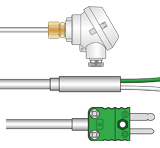 Resistance Thermometers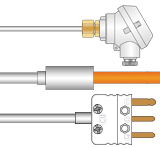 A full multi function calibrator at a very competitive price with excellent accuracy best describes this calibrator. It calibrates and simulates virtually all thermocouple and RTD inputs as well as volts, millivolts, pressure and frequency signals. It also combines several DMM functions like voltage measurement to 250V AC or DC. This combination of a high accuracy calibrator along with common DMM functions may make it the only instrument you need to maintain and calibrate your instrumentation. The instrument is also supplied with a moulded rubber holster which makes it ideal for harsh working environments.
High accuracy on a wide variety of ranges for thermocouple, RTD, millivolts, volts, current and frequency
Each unit is supplied with standard test leads, 4AA batteries, NIST certificate and instruction manual (optional thermocouple lead kit available)
Thermocouple ranges: Types K, T, J, N, E, R, S, B, L and U
RTD ranges: Pt385 (100, 200, 500 and 1000 ohms), Pt392, JIS, Ni120 and Cu10
Ohms ranges: 0 to 400.00 and 401.0 to 4000.0
mA ranges: 0 to 24.000 mA
millivolts: -10 to 75mV
Voltage: 0 to 20.000V (Input/Output) or 0 to 250V AC or DC (Input only)
Frequency: 0-1000.0 CPM, 0 to 1000.0 Hz or 0 to 10.00 KHz
Accuracy:
Thermocouple: ±0.4ºC
RTD Pt100: ±0.1ºC ±0.075 ohms (±0.3ºC total error)
Ohms: 0 to 400Ω ±0.025% ±0.05Ω, 401 to 4000Ω ±0.025% ±0.5Ω
Voltage: ±0.015% reading ±2mV
Current: ±0.015% reading ±2mA
Frequency: ±0.05% FS ±1 LSD
MA compliance: Up to 1000 ohms load
Voltage drive capability: 1 mA
RTD frequency response: 10 mS - works with smart transmitters
Operating temperature: -10ºC to 50ºC
Power supply: 4 AA batteries
Weight: 820g

Size: 220 x 120 x 53mm (HxWxD)