EAC Ex Approved RTD Pt100 Sensors for the Petrochemical, Oil and Gas Industries
with Die Cast Alloy Head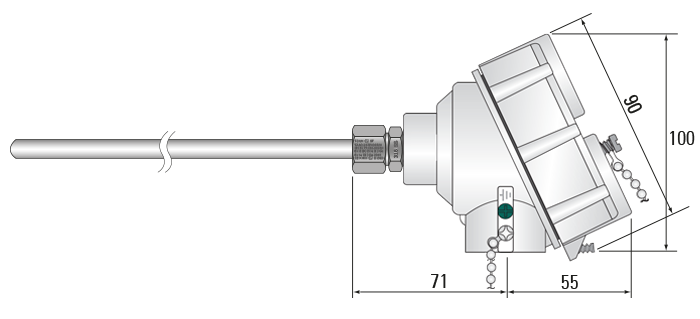 Send Enquiry
Data Sheet
Request Info
Also available with ATEX Approval
Also available with IECEx Approval
Our EAC Ex approved flexible mineral insulated platinum resistance thermometers utilise, as standard, detector elements with a resistance of 100 ohms @ 0°C and a fundamental interval of 38.5 ohms to IEC 60751. Single and duplex elements are available.
Available in a wide range of protection concepts for Zones 0, 1 & 2 use. See table below for details

Temperature classification T6-T1, see here for stand-off requirements

Available in B, A, 1/3, 1/5 and 1/10 grade accuracies

Metrological / Pattern Approval Certificate (PAC) for Russia also available on request, contact us for details

Additional Primary verification "POVERKA" available on request, contact us for a quotation if required
Sheath diameters from 4.5mm to 8.0mm

316 seamless stainless steel sheath (other grades/materials available)

Wide operating temperature range of -100°C to +600°C

UKAS calibration available.
Available with the following approvals:
| | | |
| --- | --- | --- |
| Protection Type | Description | Zone |
| Ex d IIC Gb | Flameproof (Gas) | 1 |
| Ex ib IIC Gb / IIIC Db | Intrinsically Safe (Gas/Dust) | 1/21 |
| Ex tb IIIC Db | Enclosure (Dust) | 21 |
| Ex tc IIIC Dc | Enclosure (Dust) | 22 |