News ATEX / IECEx Website
TC launch dedicated ATEX / IECEx website.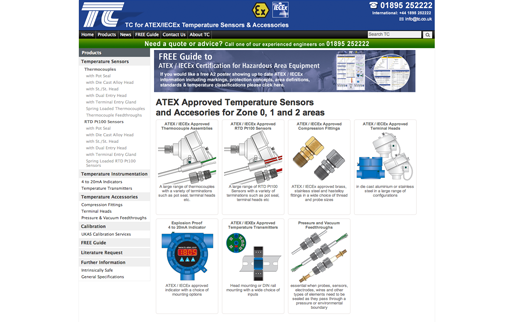 TC Ltd are now fully accredited to supply thermocouple or RTD Pt100 assemblies and accessories for hazardous areas, to zones 0, 1 & 2.

These units are certified for various explosion proof and intrinsically safe areas for a wide range of temperature measurement applications with various different end seals and terminations.

All orders are supplied with a certificate, declaration of conformity and instructions which is the minimum requirement for units used within this side of the industry.


Available from the link below is a free guide to ATEX/IECEx Certification for hazardous area equipment, including a free A2 poster showing up to date information including markings, protection concepts, area definitions, standard and temperature classifications. This is essential for anyone who is interested in purchasing these products. Alternatively you can contact TC Ltd on 01895 252222 to speak to one of our experienced engineers who are more than willing to assist you with any enquiries you may have.

Related Products
Dedicated ATEX / IEC Ex Website

click here to return to the News Section