News Thermocouple Connector Systems
Get Connected with TC Ltd 's comprehensive range of connectors and accessories.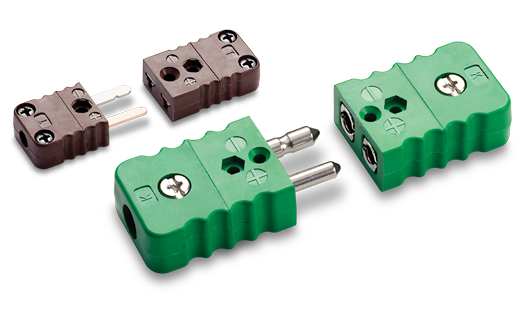 Comprehensive thermocouple connector systems for every application are now available from stock from TC.

Thermocouple connectors made from a rigid thermoplastic compound (temperature range: - 50 to 210°C) are available in both standard (round pin) and miniature (flat pin) sizes and are ideal for connecting thermocouple sensors and cabling together. The pins are polarised to avoid misconnection and they are colour coded to IEC584.3:1989 (BS4937 Part 30:1993). The terminals inside the connector have been specifically designed to facilitate quick and easy wiring and connectors for all calibration types (K, J, T, N etc) are available as well as a new range of budget thermocouple connectors.
 An extensive range of cable clamps and accessories are available to enhance connectivity and matching anodised aluminium connector panels are also available from two to twenty four channels in both standard and miniature formats.

Thermocouple barrier terminal connecting strips are also included in the range along with spade and ring lug terminals made from thermocouple material to ensure continuity and reduce errors when connecting thermocouple cable systems together.

Related Products
Miniature Connectors
Standard Connectors

click here to return to the News Section