COVID-19 UPDATE:
We are open for business as usual and here to assist our customers. Please call on our usual number - 01895 252222, or email
info@tc.co.uk
Standard High Temperature Thermocouple Socket - Quick Wire - R09
Standard Thermocouple Connectors rated to 350ºC
Thermosetting plastic body rated to 350ºC

Available for thermocouple types: K, T, J, N, R/S, E, B and Cu

Coloured brown and thermocouple type indicated on body

Easy wiring via lipped washer

Accepts stranded or solid wires up to 0.2mm to 1.29mm diameter (0.03mm² to 1.3mm²). With washer removed: up to 1.63mm diameter (2.1mm²).
Manufactured in accordance with standard EN 50212

High purity thermocouple alloys used for male pin and female socket constructions

Polarised round pins with mechanism to prevent accidental output

Single captive screw for quick assembly
Related Thermocouple Connectors
Standard High Temp
Plug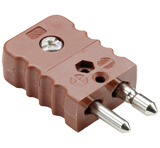 Part Code: R13
Standard High Temp
Plug - Quick Wire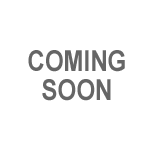 Part Code: R08
Standard High Temp
Socket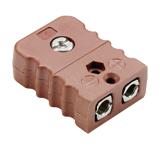 Part Code: R22
Standard High Temp
Plug - Three Pin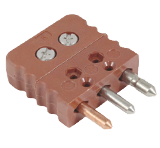 Part Code: R18