COVID-19 UPDATE:
We are open for business as usual and here to assist our customers. Please call on our usual number - 01895 252222, or email
info@tc.co.uk
Standard Thermocouple Panel Blanking Socket - R79
Standard Thermocouple Connectors rated to 220ºC
When using a connector panel with less connectors than available slots, these blanking sockets are perfect to avoid having an empty space in your panel. The blanking sockets are made from the same material as other connectors manufactured by the TC Group and are colour coded to IEC 60584-3 : 2007, complete with a bracket for attachment to the panel.
Body: Thermoplastic compound rated -50°C to +220°C

Colour coded to IEC 60584-3 : 2007 Type K - Green, Type T - Brown, Type J - Black, Type N - Pink, Type RCB/SCB - Orange and Copper - White
Dimensions:
16x25x12.5mm (LxWxD) with front bezel 42x19mm supplied with bracket for attachment to panel
Related Thermocouple Connectors
Standard Panel Socket - Rectangle Flanged & Bracket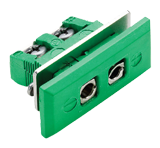 Part Code: R29
Standard
Plug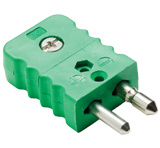 Part Code: R11
Standard
Socket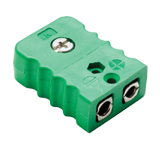 Part Code: R20
Standard Panel Socket - Lugged - Closed Back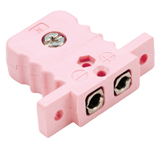 Part Code: R30
Standard Panel Socket - Round Flanged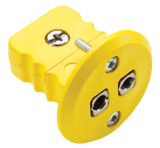 Part Code: R32
Standard Panel Plug -
Lugged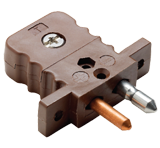 Part Code: R37