High Performance Programmable Temperature Controller
Temperature Programmers
Related Products
Mineral Insulated Thermocouples
with pot seal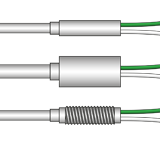 Mineral Insulated
Resistance Thermometers
with pot seal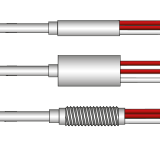 High Intensity Display
All necessary information is visible on the easy-to-read front display.
Advanced Control
A newly developed control algorithm designed exclusively for
ramp/soak controls improves follow-up performance while
simultaneously suppressing overshoot at the transition from
ramp to soak.
Multiple Control
Up to 3 analog outputs can be used to control three types of devices (such as a motorized valve). Combining time signal outputs allows programming for complex applications.
Inputs
A wide range of thermocouple and resistance thermometer inputs can be specified.
Outputs
Relay, SSR and current outputs are available.
Fast Sampling Time
Meet different control requirements by switching sampling speeds. Choose 0.05 for "fast" process applications to 0.25 sec. sampling
for "stable" for applications which require higher resolutions.
Large Memory
The PF900 can store up to 1024 segments (99 patterns with 10 segments each to 10 patterns with 99 segments each).
Selectable PID Zones
Select the best PID option for your application. The set values are stored in 8 stage levels or in 8 memory groups.
Flexible Pattern End Output
Set the end signal to the control mode after the pattern end, valve opening status, event status, or retransmission output signal status.
Flexible Wait Function
The WAIT function can be released by the out-of-wait zone determination (upper/lower sides), digital input or timeout setting.
Memory Groups
Set values of P, I, D, event, segment wait, time signal, program pattern output can be stored in memory groups and can be called up for a segment to be set.
Reliable Collaborative Operation
Up to 4 slave instruments (FB/RB series and PF900/901) can
be connected via exclusive communication port. Digital communication gives isolated communication without
setting error, ratio setting of individual slave controller,
memory area selection and Run/Stop switchover.
Data Security
Non volatile memory and set data lock prevents loss or inadvertent change of data due to power failure or incorrect operation.
Supply
A choice of 100 to 240V AC or 24V AC/DC supplies is available.