1/8 and 1/4 DIN Programmable Temperature Controller
Temperature Programmers
Related Products
Mineral Insulated Thermocouples
with pot seal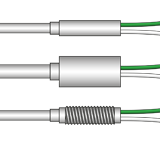 Mineral Insulated
Resistance Thermometers
with pot seal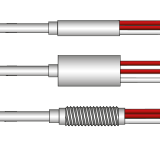 Control
Fully programmable PID or ON/OFF with adjustable hysteresis can be configured by the user.
PID Level Control
In addition to the standard PID with autotune function, PID level control allows the user to select up to four groups of PID control parameters ensuring optimum control is achieved over a wide range of setpoints. The transition temperature from one group to the next is programmable. Level PID control may be switched off if it is not required.
Alarms
Up to four Digital Outputs (optional) are available as alarms or time and end signals. These can be configured by the user to act as deviation or process alarms and as programme end or time signal outputs.
Inputs
A wide range of thermocouple, resistance thermometer and voltage/current inputs can be specified.
Outputs
Relay, SSR and current/voltage outputs are available.
Heating/Cooling Control Action
Heating/Cooling control action is available with self tuning. A choice of control signals is available for both heating and cooling outputs.
Contact Inputs
Optional digital inputs can be specified and used for RESET, RUN, STEP, HOLD, Interlock release & setting data lock / unlock (Interlock release and setting data lock / unlock only available with 6 Digital Input option)
Programming
Maximum of 256 segments (16 patterns with 16 segments). Each segment is either a ramp, soak or dwell. It is possible to have programmes linked.
Programme End or Time Signal Output
If Digital Outputs have been specified, these can be programmed to be an End Pattern Output or Time Signal as required.
Fixed Setpoint Control
In addition to the programme control function, a fixed dwell setpoint may be selected. The process is kept at a constant temperature until it is reset or advanced to the next segment. This is useful where the process can for example be reduced in temperature until the next batch is in place without reducing the temperature to ambient. This can save valuable time.
Process Value Bias
This option allows the measured object temperature to be offset on the display to compensate for errors due to difficulties in correct placement of the sensor.
Wait Zone Function
The programmable 'waiting zone' prevents the progress of the programme into the next segment until the process value is with the zone. This ensures that the product is soaked at temperature for the complete duration of the dwell segment.
Retransmission Output
An analogue output may be specified as a retransmission signal of process value, set value, deviation or as a control output. If this is required please specify this in the additional information section.
Process Value Start
The PV Start function measures the application temperature and automatically starts the process from this value.
Data Security
Non volatile memory and set data lock prevents loss or inadvertent change of data due to power failure or incorrect operation.
Supply
A choice of 100 to 240V AC or 24V AC/DC supplies is available.