Calibration Details for AMS2750 Approved Thermocouples for Vacuum Furnaces
AMS2750 Approved Thermocouples for Vacuum Furnaces
All 12HT sensors are supplied with a 3-page batch calibration report (shown left) over the temperature range 0-1200°C. Calibration is performed in our ISO17025 approved laboratory and is fully traceable to NPL/NIST standards. The report is designed with the needs of the selected standard in mind and includes a list of calibrated equipment used, results for start/end/average of batch (figure 1), correction factors, start/end differential and graphical representation of the output curves (figure 2). All applicable standards are referenced in a conformity statement (figure 3). Calibration reports are generated for each batch of sensors manufactured with a unique certificate number and the following order-specific information: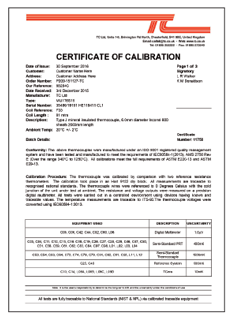 Customer Name and Address

Order Reference

Coil Reference

Coil Length

Serial Number

Description of Product

Sensor Part Code
TC Ltd operate an extensive pre-testing calibration program. All of our mineral insulated cables used to manufacture the 12HT range are calibrated in our laboratory, all reels meeting the requirements of the AMS2750, BAC5621 & CQI-9 standards are stocked ready for quick manufacture with a 7/10 day typical lead time for completed sensors with calibration report.

If your application requires individual sensor calibration or uses custom temperatures not shown on the report, these requirements can be added to the 12HT part code as shown in the order code example below. We will then perform the custom calibration before despatch and amend the report accordingly. It is also possible to specify full UKAS calibration if required. Please contact one of our experienced sales engineers for more details.