COVID-19 UPDATE:
We are open for business as usual and here to assist our customers. Please call on our usual number - 01895 252222, or email
info@tc.co.uk
AMS2750 Approved Thermocouples for Vacuum Furnaces
Vacuum Thermocouple with Miniature Plug
Related Products
Miniature Socket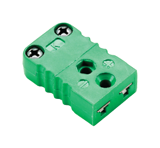 Ceramic Sheathed Vacuum Thermocouples
Type 40/41 assemblies incorporate an integral Spectite® seal and are ideal for vacuum furnace applications. The Spectite® vacuum seal is rated to 5 x 10-6 torr with low leak rates (better than or equal to 1 x 10-6 scc/sec. under 1 Atm @ 20ºC). These thermocouples can be supplied to all recognised standards and tolerances when combined with our UKAS calibration services. They are available in simplex and duplex junction styles with an optional test sensor hole for calibration / survey work. A wide range of support tube fittings for attachment into the process is available.
Vacuum seal rated 5 x 10-6 torr

Low leak rates

Integral Spectite® seal on internal wires maintains vacuum even if sheath is damaged

Wide operating temperature range up to 1600°C
Wide range of attachments for process installation

Simplex and Duplex versions available

UKAS and In-House calibration options available to all major international and industry specific standards

Flexible tagging options available for clear traceability
Calibration Accuracies:
Code
Standard
Accuracy Supplied
Certification
IEC1
IEC 60584.1 Class 1
Types K/N: ±1.5ºC (-40 to +375ºC) or 0.4% (375 to 1000ºC)
Types R/S: ±1.0ºC (0 to 1100ºC) or 1ºC + 0.3% of temperature above 1100ºC (1100 to 1600ºC)
TC Ltd offer both UKAS and In-House (traceable to national standards) calibrations to all major international standards up to 1590°C. Our laboratory is fully accredited to ISO17025 and our reports are designed with the requested standard in mind. Our sales engineers are on hand to discuss any requirements so please do not hesitate to contact us for more details.
AMS1
AMS2750
Types K/N: ±1.1ºC or 0.4%
Types R/S: ±1.0ºC or 0.25%
(whichever is greater)
Type B: ±1.0ºC or 0.25%
(whichever is greater)
AMS2
AMS2750
±2.2ºC or 0.75% of reading
(whichever is greater)
BAC2
BAC5621
±1.1ºC <538ºC or
0.4% of reading >538ºC