COVID-19 UPDATE:
We are open for business as usual and here to assist our customers. Please call on our usual number - 01895 252222, or email
info@tc.co.uk
High Temperature Metal Sheathed Thermocouples (Type 27)
High Temperature Thermocouple with Standard Plug
Related Products
Standard High Temperature Socket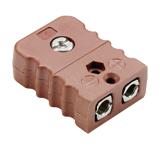 Standard Socket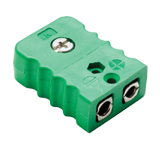 These high temperature thermocouples are used in applications where other thermocouples would fail due to excessive heat or severe environments. Utilising specialist exotic sheath materials such as Platinum 10% Rhodium, Molybdenum and Tantalum they can be used in service temperatures up to 2300°C. The combination of conductor, insulation material and sheath must be carefully selected to suit your process environment, service temperature and installation requirements (i.e. whether the probe is flexible or not). Our experienced sales team are on hand to assist where needed, so please do not hesitate to contact us if help is required.
Typically used with high temperature thermocouple types R, S, B, C and D

Temperatures up to 2200°C (continuous use) or 2300°C (short term use)

Semi-Rigid (mineral insulated) and Rigid (tube) styles available

Terminated in a standard round pin plug, rated to 220°C, 300°C. 425°C or 600°C

Calibration service for oxidizing and inert environments is available up to 1600°C
Code
Sheath Material
Operational Properties
MI (Semi-Rigid)
Tube (Rigid)
Insulation Material
Thermocouple Types
Available Sheath Diameters (mm)
Max.
Continuous Temperature
600

Inconel 600®

Suitable for use in inert, vacuum and oxidizing environments.
Minimum bend radius: 5 x sheath diameter.
Not recommended for use above 800°C in oxidising atmospheres. Do not use in sulphur bearing atmospheres above 550°C.
Semi-Rigid
MgO

R, S and B

1.0mm, 1.5mm, 3.0mm, 3.2mm, 4.8mm, 6.0mm and 6.4mm

1175°C

600T
Inconel 600®
As above.

Do not bend.

Rigid
Al2O3

R, S and B

3.0mm, 3.2mm, 4.8mm, 6.0mm and 6.4mm

1175°C

P10R
Platinum 10% Rhodium
Suitable for use in inert and oxidizing environments.


Minimum bend radius: 10 x sheath diameter.

Semi-Rigid
MgO

R, S and B

1.0mm, 1.5mm and 1.6mm

1550°C

TAN
Tantalum
Suitable for use in inert and vacuum environments.


Minimum bend radius: 5 x sheath diameter.

Semi-Rigid
MgO, Al2O3, HfO2

R, S, B, C and D

1.0mm, 1.5mm, 1.6mm, 3.0mm and 3.2mm

2200°C

NIO
Niobium 1% Zirconium
Suitable for use in inert and vacuum environments.
Minimum bend radius: 10 x sheath diameter.
Semi-Rigid
MgO, Al2O3, HfO2

R, S, B, C and D

1.6mm and 3.2mm

2200°C

MOL
Molybdenum
Suitable for use in inert, vacuum and reducing environments.
Do not bend.
Rigid
MgO, Al2O3, HfO2

R, S, B, C and D

1.5mm, 1.6mm, 3.0mm, 3.2mm, 4.8mm, 6.0mm
and 6.4mm

2000°C

CMOL
Coated Molybdenum
Suitable for use in inert and oxidizing environments.
Do not bend.
Rigid
MgO, Al2O3, HfO2

C and D

1.5mm, 1.6mm, 3.0mm, 3.2mm and 6.4mm

1600°C