Dual Display Temperature Controllers with Digital Inputs & Retransmission
Temperature Controllers
Related Products
Mineral Insulated Thermocouples
with pot seal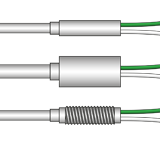 Mineral Insulated
Resistance Thermometers
with pot seal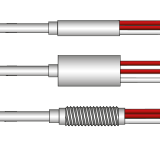 Control
Fully programmable PID or ON/OFF with adjustable hysteresis as configured by the user.
Active Tuning and Self Tuning
In addition to self tuning these controllers feature continuous active tuning. Active tuning which can be manually selected, automatically adjusts PID values as a result of a process disturbance, to ensure optimum performance.
Alarms
Up to two low cost alarms may be specified and configured by the user to act as deviation or process alarms.
Loop-break
Alarms may be configured by the user to detect a fault in the control loop caused by failure of the heater element, load relay or sensor circuit.
Heater-break
In the event of a heater failure this option produces an alarm output. A matching current transducer available from TC Ltd is required for this option.
Inputs
A wide range of thermocouple and resistance thermometer inputs can be specified. Current and voltage inputs are also available.
Outputs
Relay, SSR and current outputs are available.
Auxilliary Output
An auxiliary output option is available for either: a third alarm output, a programmable retransmission signal for process, set or output values or a run/stop status contact output.
Contact Input
A digital input contact is available for either remote setpoint 1 or 2 switching or run/stop control.
Simple Panel Mounting Feature
A simple panel mounting feature enables up to six controllers to be fitted horizontally in a single panel cutout thereby saving space and installation time.
Waterproof and Dustproof Version
An IP66 version of the CB103 and IP65 version of the CB403 and CB903 are available.
Process Value Bias
This option allows the measured object temperature to be offset on the display to compensate for errors due to difficulties in correct placement of the sensor.
Data Security
Non volatile memory and set data lock prevents loss or inadvertent change of data due to power failure or incorrect operation.
Supply
A choice of 85/264V AC or 24V AC/DC supplies is available.