High Speed Dual Channel Temperature and Process Controllers
Temperature Controllers
Related Products
Mineral Insulated Thermocouples
with pot seal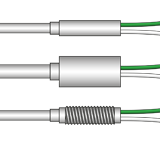 Mineral Insulated
Resistance Thermometers
with pot seal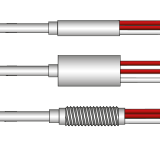 Fast Input Sampling Time
An input sampling time of 0.025 seconds enables these instruments to control rapid thermal processes as well as general high speed applications including pressure and flow control.
High Input Accuracy and Resolution
Input accuracy is typically ±0.1% of process value. With a resolution of 0.1°C for thermocouple and 0.01°C for Pt100 these instruments are suitable for today's demanding applications.
Control
The HA401 and HA901 feature BrilliantTM PID control and the ability to select integral and derivative values to 0.01 seconds resolution.
Single or Dual Channel
Single or dual channel versions are available. The control mode is selectable for single channel, dual channel or cascade control.
Inputs
In the event of a heater failure this option produces an alarm output. A matching current transducer available from TC Ltd is required for this option.
Inputs
A wide range of thermocouple, resistance thermometer, voltage or current inputs is available.
Outputs
Relay, SSR, voltage and current outputs may be specified.
Memory Area Location of Set and other Values
These controllers will remember sixteen groups of set values, alarm values and PID control terms. Selection of each group may be performed from the front panel or remotely.
Programmer Function
Ramp/Soak control is possible by using the Memory Area Soak Time, Area Linking and Setvalue Rate Change parameters.
Alarm (Event) Outputs
Up to four alarm events may be specified for deviation, process, loop or heater break alarm action. Events maybe assigned to the relay output on Output 3 (order code box 7) and Outputs 1 and 2 on Event Outputs.
Contact (Event) Inputs
This option allows remote selection of auto/manual, local/remote setpoint, run/stop control or the sixteen memory areas.
Remote Set Value
On single channel versions it is possible to specify a remote analogue setpoint (voltage or current inputs only).
PDA Infrared Port Communication
The HA401/901 can be set and monitored with infrared port communication of PDA (Windows Pocket PC 2002). Please contact TC Ltd for further details.
Retransmission Outputs
Up to three analogue output signals may be specified for control or retransmission of set, process values or deviation and assigned on outputs 1, 2 and 3.
Communication
Communication may be through RS232, RS485 or RS422A. Up to two communication ports may be specified. Port 1 is available with ANSI Serial or Modbus communication (selectable). Port 2 is available with ANSI, Modbus, Devicenet or Profibus, which should be specified when ordering.
Power Feed Forward (PFF)
This option constantly monitors the electrical load through a dedicated transformer. The instrument control output is then automatically adjusted to compensate for fluctuations in the power supply.
Direct Function Keys
Front panel function keys are available for selection of auto/manual, remote/local setpoint or run/stop control action. It is possible to de-select function key action if required.
Waterproof and Dustproof Version
An IP66 version is available.
Supply
These instruments are supplied with a 85/264V AC supply or a 24V AC/DC supply.