4 or 8 Channel Dual Display Temperature Controllers
Temperature Controllers
Related Products
Mineral Insulated Thermocouples
with pot seal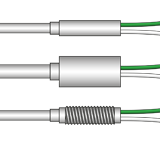 Mineral Insulated
Resistance Thermometers
with pot seal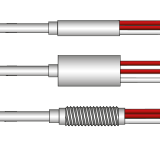 Space Saving and Cost Saving
The 4 channel (MA900) and 8 channel (MA901) controllers offer a saving in cost over single channel controllers having the same specification. In addition substantial savings in panel space, panel cut out time and wiring time can also be made.
Flexible Operation
Individual channels may be set up for a range of control, monitor, alarm and indication functions and unused channels may be turned off. Parameters may be manually selected on the front control panel or the display may be set to automatically scan each loop in sequence. Scan time is adjustable.
Control
Fully programmable PID or On/Off with adjustable hysteresis as configured by the user.
Self Tuning
A valuable time saving feature simplifying commissioning and guaranteeing optimum performance.
Set Point Rate Limiter
For applications which require a controlled rate of heating, the setpoint can be programmed to automatically ramp up or down at a preset rate.
Inputs
A wide range of thermocouple inputs may be specified. The user may configure different thermocouple types for each channel. Resistance thermometer or voltage inputs are also available.
Outputs
Relay, SSR and current outputs are available for heat and heat/cool outputs. Output type is defined in a group of four. It is therefore possible to specify a different output on channels 5 to 8 on the MA901 and cooling output on channels 1 to 4 on the MA900 heat/cool version.
Alarms
A single common alarm (common to all channels) is supplied as standard. Alarm action may be configured as temperature deviation, process or set value or as a loop break action. Up to two additional common alarms may be specified. On the 4 channel MA900 controller the second control output may be configured for independent alarm action for alarm 3.
Heater Break Alarm
In the event of a heater failure this option produces an alarm output. A matching current transducer available from TC Ltd., is required.
Heating/Cooling
Heat/cool control action is available with autotuning on the 4 loop MA900 controller. A choice of control signals is available for both heat and cool outputs.
Contact Input
The digital input contact option allows remote selection of memory areas and run/stop.
Communication Function
RS232 and RS485 communication is available for Modbus and ANSI X3.28 protocols allowing easy connection to PLC and PC based SCADA systems.
Memory Area Location of Set and other Values
To facilitate changing parameters during production, the M900/901 can store up to 8 groups of set/alarm values and PID control terms. Selection of each group or recipe may be performed from the front panel or remotely.
Waterproof and Dustproof Protection
An IP65 version is available for applications where dust or moisture can affect instrument performance.