COVID-19 UPDATE:
We are open for business as usual and here to assist our customers. Please call on our usual number - 01895 252222, or email
info@tc.co.uk
RTD Resistance Thermometer Cable - HR PVC Insulated
PVC
Insulated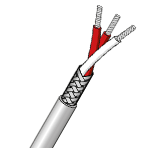 Cores of stranded copper conductors. Cores HR PVC insulated. Cores bunched together. Tinned copper wire braided. HR PVC sheathed overall.