COVID-19 UPDATE:
We are open for business as usual and here to assist our customers. Please call on our usual number - 01895 252222, or email
info@tc.co.uk
RTD Resistance Thermometer Cable - Fibreglass Insulated
Fibreglass Insulated
with Stainless Steel Braid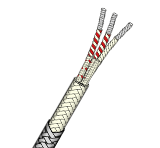 Cores of stranded copper conductors. Cores double glass lapped, glass fibre braided and varnished. Cores bunched together, glass fibre braided overall and impregnated with silicone varnish. Stainless Steel braid overall.