COVID-19 UPDATE:
We are open for business as usual and here to assist our customers. Please call on our usual number - 01895 252222, or email
info@tc.co.uk
Hand Held Indicators
Hand Held 4 Channel Multi Thermocouple Bluetooth Datalogger with Windows® Software
Related Products
Hand Held Thermocouples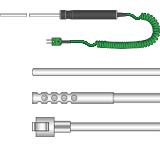 This four channel hand held datalogging indicator will accept Types K T J N R S or E thermocouple sensors and features a clear a clear backlit LCD display and tilt stand design. The instrument can log up to 32000 readings per channel and via a USB output and supplied Windows® software or Bluetooth adaptor (dependant on unit selected), measurements can be made in the field and then downloaded simultaneously or later to a PC. High and Low alarms are configurable from the PC as well as being able to export the data in a variety of formats. It is possible to log each channel or the differential temperature between two channels. The interval programme on the indicator incorporating a real time clock allows unsupervised measurements in variable increments. Other features include max/min/avg display and data hold function keys, timer, a °C/°F/K transfer key and an ergonomically designed keypad with non slip function keys.
Multi channel input. Logging of either measurement or a differential measurement possible
Bluetooth connectivity only available with Bluetooth adaptor
Up to 32000 readings per channel
Windows® software supplied
Selectable for thermocouple types K T J N E R or S connected via a miniature flat pin plug

°C/°F/K selectable
Accuracy: +/- 0.1% of reading + 0.7ºC/1.4ºF
Resolution: 0.1°C/°F/K
Sampling Time: Selectable, from 1 second to 23 hours, 59 minutes, 59 seconds.
Supplied with USB cable and Windows® software
Power supply: 4 AAA batteries (supplied)

Battery Life: 1000hrs