COVID-19 UPDATE:
We are open for business as usual and here to assist our customers. Please call on our usual number - 01895 252222, or email
info@tc.co.uk
Hand Held Indicators
Printing Indicator - Dual Channel
Related Products
Hand Held Thermocouples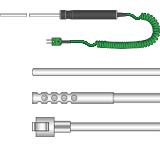 This hand held printing indicator will accept Type K T J or E thermocouple sensors. Being dual channel it is possible to either print the output of the first or the second sensor, or alternatively, the differential temperature between the two sensors. The interval printing programme incorporates a real time clock which allows unsupervised measurements in variable increments. The printer is dot matrix onto thermopaper which eliminates the need for an ink cartridge. Supplied complete with a briefcase style carrying case and two rolls of paper. Other accessories are also available.
Dual input. Printing of either measurement or a differential measurement possible

Selectable for thermocouple types K T J or E connected via a miniature flat pin plug

°C/°F selectable

Accuracy: 0.1% of reading +0.8°C over range of thermocouple type
Resolution: 0.1°C/0.2°F

Read rate: Selectable in variable increments

Dot matrix inkless printing onto thermopaper

Supplied complete with a briefcase style carry case and two rolls of paper

Power supply: 6 AAA batteries (supplied) or alternatively via separately supplied Power Adaptor