COVID-19 UPDATE:
We are open for business as usual and here to assist our customers. Please call on our usual number - 01895 252222, or email
info@tc.co.uk
Bearing (Embedded) Thermocouples (Type 6)
General Purpose Thermocouples
Related Products
Standard Socket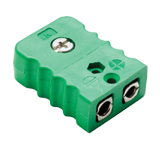 Miniature Socket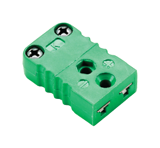 A range of fast response miniature embedded (also known as embedment) thermocouple sensors designed for surface temperature measurements in general industrial applications such as in bearing shoe applications to give a reliable indication of bearing wear and oil film breakdown through continuous monitoring of temperatures. These tip sensitive thermocouples have an operating temperature range of -25°C to +250°C and can be supplied with a pressure tested oil seal barrier to prevent leakage. Standard assemblies are easy to install in drilled holes for general temperature sensing applications, whereas the spring loaded 'top hat' style assemblies are inserted into a milled hole with a retaining clip, pushed down to compress the spring and retain the sensor against the surface being monitored.
Fast response and cost-effective solution to bearing temperature monitoring

Standard (Cap) or 'Top Hat' style tips

Pressure tested (minimum 5bar/75psi for at least one hour) Oil Seal Barrier (feedthrough) available
Stainless steel and phosphor bronze tip materials

Sensors and Oil seals are rated for use up 250°C

Colour coded to IEC584.3 or ANSI MC96.1