COVID-19 UPDATE:
We are open for business as usual and here to assist our customers. Please call on our usual number - 01895 252222, or email
info@tc.co.uk
Heavy Duty Screw on Spring Bayonet Thermocouple (Type 11C)
General Purpose Thermocouples
Related Products
Standard Socket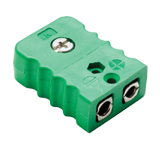 Related Products
Miniature Socket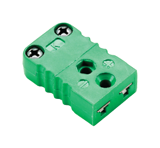 Suitable for plastics machinery and general purpose applications, these heavy duty bayonet sensors are supplied with a 200mm spring on which an industry standard one slot adjustable bayonet cap fitting is screwed onto for fine positioning on site. These assemblies are available in thermocouple types K, T, J, N and E and the sensing tip is incorporated within an 18mm long x 4.7, 6.0 or 8.0mm diameter (specify as d1) tube which the stainless steel braided leads are sealed into. This heavy duty version incorporates a flexible stainles steel armoured cable providing increased mechanical protection in arduous environments.